Weddings/Events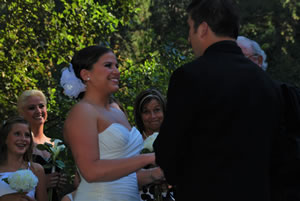 In the spring and fall the resort is available to host your wedding, retreat, seminar or family reunion. We provide the meals, cabins and meeting areas for up to 100 people.
Contact us if you are interested in holding a seminar or other group function in the off season!
Weddings
Have a weekend long wedding celebration with your family and friends in a pristine mountain setting.

The atmosphere is rustic and casual, promoting a stress-free weekend of fun and festivities.

We are flexible to help create the wedding of your dreams, a celebration your friends will talk about for years to come!

How it Works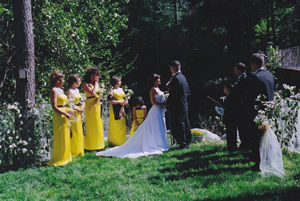 Your wedding guests pay $275 per person. This includes: Two nights accommodation in a rustic cabin on a mountain river, dinner Friday night, breakfast and lunch on Saturday, brunch on Sunday. Also full use of the facilities at the resort including swimming, tennis, volleyball, basketball, pool, ping-pong, horseshoes, and much more!

We require a minimum of 40 people staying here at the resort for the weekend. We can handle up to 100 people for the wedding celebration.

The Bride and Groom's accommodations and meals are complimentary. We also provide one complimentary package for each 20 people you book. You may use these complimentary packages for family, band members, ministers, or whomever you like.

For the wedding itself, we have a base charge of $400 to cover basic employee needs. Other costs you will be responsible for are: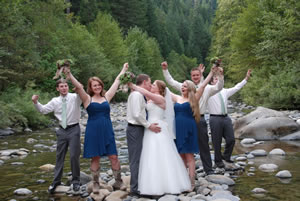 The Wedding Buffet- We can provide a basic to a fancy buffet, depending on how much you want to spend. We can also suggest local caterers, or will work with the caterer of your choice.
Alcohol- You must purchase the alcohol for the wedding through us, we will provide a bartender to serve it.
Entertainment/Band/Disc Jockey
Flowers and Decorations
Photographer
Minister
Wedding Cake
Any Additional Employees needed beyond basic staff
Let us help you plan an unforgettable mountain wedding celebration!
Trinity Alps Resort
(530)286-2205