Facilities
The Cabins
Nestled in the trees along one mile of the river are fifty private, rustic cabins. Each cabin has a sleeping veranda; one or two bedrooms; bathroom(s) with shower; a kitchen complete with stove, oven, refridgerator, utensils, dishes, pans, and an outside barbecue and picnic table.
Bring your own linens or sleeping bags.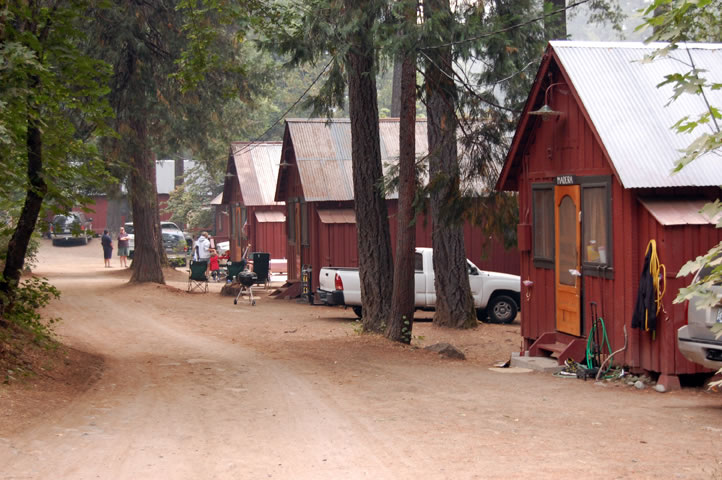 General Store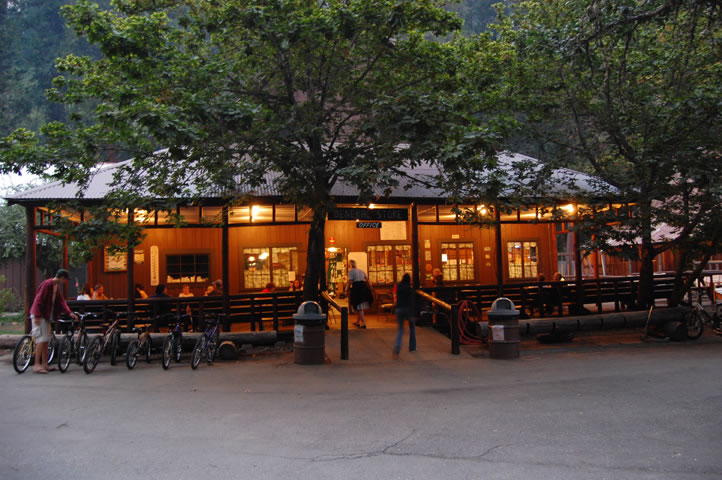 here you will find all your necessities except fresh produce and meat, including cold beer and wine, hot cappucino, milk, eggs, bread, sandwich meat, snacks, sundries, fishing and camping supplies, and a variety of locally handcrafted goods. The ice cream counter sells great ice cream cones, sundaes, espresso, and the "Best Milkshakes In The West". The store also has a recreation area containing pool, foosball, and a variety of video games. Sporting equipment may be checked out at no charge to our guests.
BEAR'S BREATH BAR & GRILL RESTAURANT
Our World Famous Spaghetti Buffet is open Memorial Weekend Fri, Sat, and Sun AND Wednesdays June 15 - Sept 30
Full Menu Thu, Fri, Sat 5:30 - 9:30 mid June thru Labor Day Wknd
Bar closed Mon
Restaurant Closed Sun, Mon, Tue
Available for special events on Sunday afternoons or evenings. Birthdays, Anniversaries, etc.
Community Center
This is the place to enjoy family movies, square-dancing and talent shows at no charge to our guests. Our center can accommodate meetings, receptions, and other groups of up to 100 people.
The Swimming Hole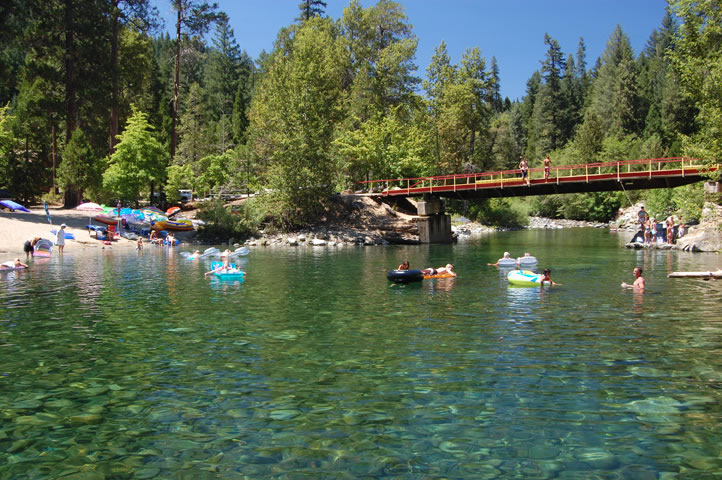 The place to be during the day. Relax in a raft, take a swim or jump off the bridge!


Lunches
Have some fun at 6 Pack Snacks, our open air barbecue and snack bar. Open July & August.